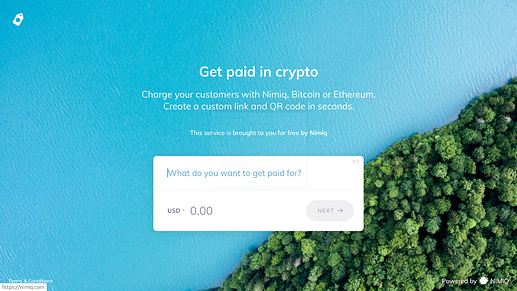 About Cryptopayment.link:
WHO is it for: Freelancers, artists, boutique business owners and influencers who are open to accepting their first crypto payments.
WHAT is it about: Earning crypto (instead of buying it!) by accepting BTC/ETH/NIM for your effort/service. Get a piece of the future and widen your audience!
HOW does it work: By sending your counterparty a very simple payment request link. Created with cryptopayment.link: the worlds simplest payment request & monitor tool (and no installation, no plugin needed)!
DETAILS: With cryptopayment.link you can quickly create a payment request based on your USD/EUR charge and share it as link via Whatsapp, Email or favorite messenger. The service helps you create or enter your Crypto wallet accounts, calculates the correct amount in BTC, ETH or NIM your client needs to pay you at the time of payment, and monitors the respective Blockchain so you receive an email as soon as a payment is confirmed! The service is FREE and non-custodial, meaning payments are made directly from the clients crypto wallet to yours.