Hello fellow Miners,
Once again NIM Pools Hub is expanding, Web Monitor, Desktop Miner and now…
NIM Pools Hub - Nimiq Pool Monitor (Android)
A fast and easy way to check your nimiq miner's statistics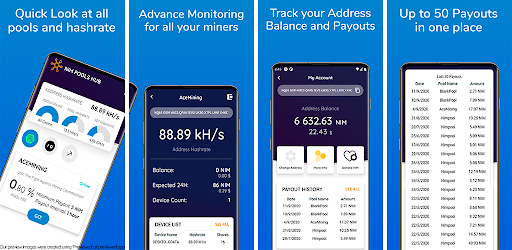 At the moment with NIM Pools Hub you can check:
Pool info at a glance (Minimun Payout, Payout Interval, Hashrate…)
Address hashrate independently on every pool.
Pool balance, extimation of 24 hours mining, miners list with hashrate, name and shares.
Address balance and payout history without even leaving the app.
Recive notifications on new Payouts or incoming transactions from another addresses
More to come… (Suggestion are appreciated)
The app is already released at the Play Store as early access, all pools available.
If you area a miner mining on any Nimiq pool and want to test the app and help in the development you can download it following this link.
All feedback through this post or the Play Store will be very helpful (screenshots over all) for the development of the app.
Thanks to all Nimiq Comunnity