Project Description (Please read linked image file) :
Physical Airdrop as geocaching game with street art vector to spread Nimiq in France and worldwide, allowing people to know Nimiq, its uses and simplicity.
Project Team
@Lug_artist (Telegram, twitter, instagram)
Mail : [email protected]
Street art, geocaching making, head of project
@glemiere (Telegram)
Mail :
NimChase website developper
@Matheo
NimiqMatheo (Telegram)
NimChase website co-developper
@Any0ne22 (Telegram)
NimChase website co-developper
@Danyx11 (Telegram)
Twitter and Social media
As an open project we will recruit in France support persons to help during the campaign (as an experiment with one publication we got 11 more people to help us).
Requested funding
There is three parts in funding : The "airdrop" as NimGraf secure Faucets, the "art" as material and moves, the "infrastructure" as NimChase website.
Total in NIM : 10 000 000 NIM
Infrastructure cost (server and website for mass connection) : 1000 USD or +/-500 000 NIM if all is not used we send it back.
Geocaching game "airdrop" : 6 000 000 NIM
Material (street art part : paints, 12 000 stickers, travels, rewards for helpers…) : 1 500 000 NIM
Security audits from Team Nimiq.
External funding
Actually, no external funding expected.
Project Characteristics
Open Source (to make it possible everywhere in Earth)
Detailed Project Plan
Funding approval
Website developpement
Street art planning and making + recruitement
NimoLith making (helping getting viral in other countries)
[OASIS RELEASE]
1 week spreading NIM in cities : stickers and street art QR codes
Secret place and shape for treasure
NimGraf project file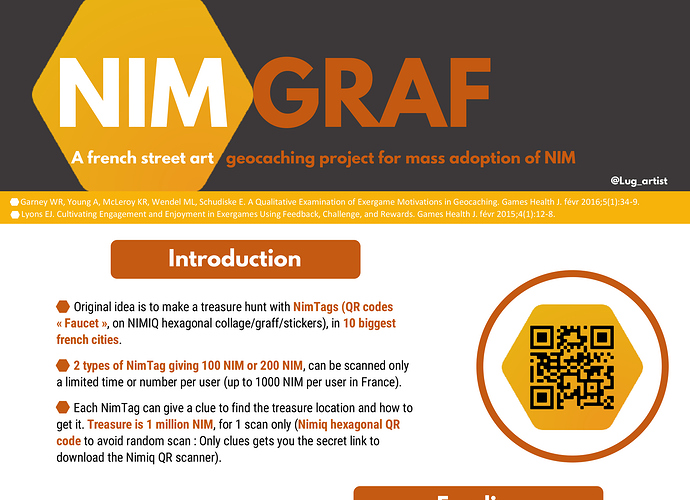 Thanks for reading !


Like

, Share, Comment your ideas to help us getting this project to life !