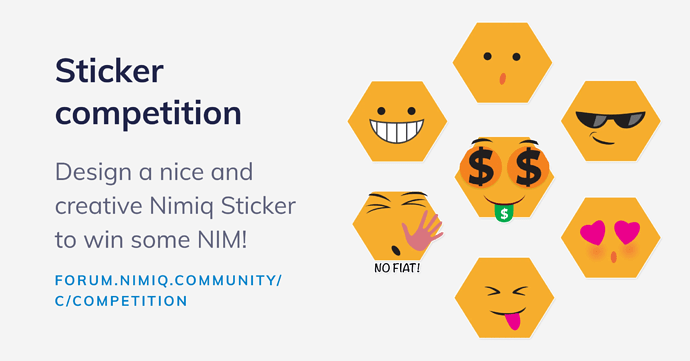 Design creative and fun Nimiq stickers based on the familiar Nimiq hexagon. Ten winning stickers will be selected and added to the Nimiq Sticker Pack. Each user can win only one time, but can submit several designs. Some of the selected winners will also be added to the shop and sold for 1 NIM to new supporters of the project, giving them an engaging way to experience Nimiq's Checkout.
You can win!
The competition will have 10 winners, each receiving 50k NIM for their sticker design.
How to participate?
How are the winners chosen?
Artists post a comment in the dedicated Nimiq Twitter thread with their submission attached as an image file.
Nimiq Team designers will select the winners based on their professional opinion plus taking all the input from the community into consideration.
Winners will be selected by June 8, 2020.
Resources
Legal stuff
Please keep following required legal aspects in mind when submitting your designs.
By submitting a design, an entrant acknowledges that Nimiq and its affiliates would use the design for:

Marketing, advertising, manufacturing, distribution, and sale.

The design does not infringe upon copyright.
Submitters retain ownership of the design.
By submitting the design the entrant grants Nimiq worldwide, irrevocable, non-exclusive, right and license to use, upload, modify, reproduce, copy, exhibit, create derivative works of, distribute, sell, advertise, and display the design, in any manner now known or hereafter devised. This license may be sub-licensed by Nimiq to others. You waive any "moral rights" you may have in the design.
Nimiq is granted worldwide, non-exclusive, rights and licenses to use the design.