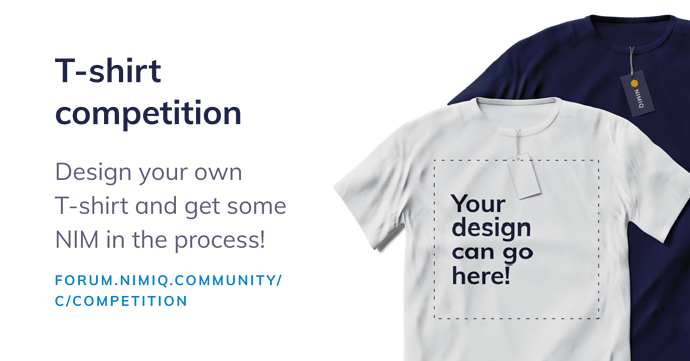 Create unique designs built around the Nimiq crypto brand for T-shirts. Nimiq is excited to offer the custom T-shirts design of the winner in the Nimiq shop. Add your aesthetic to 2 limited edition Nimiq branded T-shirts and help Nimiq community members chill (shill) out in style.
You could win:
Selected artists earn 2k NIM for each t-shirt sold with their design on https://shop.nimiq.com/ (until stock runs out)
250k NIM instantly credited to the winners of the competition.
The competition will have 2 design winners.
How to participate?
How are the winners chosen?
Artists post a comment in the dedicated Nimiq Twitter thread with their submission attached as an image file.
Nimiq community members vote on the best designs by liking their favorite designs on Twitter.
Voting ends on May 1st.
Resources
Legal:
By submitting a design, an entrant acknowledges that Nimiq and its affiliates would use the design for:

Marketing, advertising, manufacturing, distribution, and sale.

The design does not infringe upon copyright.
Submitters retain ownership of the design.
By submitting the design the entrant grants Nimiq worldwide, irrevocable, non-exclusive, right and license to use, upload, modify, reproduce, copy, exhibit, create derivative works of, distribute, sell, advertise, and display the design, in any manner now known or hereafter devised. This license may be sub-licensed by Nimiq to others. You waive any "moral rights" you may have in the design.
Nimiq is granted worldwide, non-exclusive, rights and licenses to use the design.