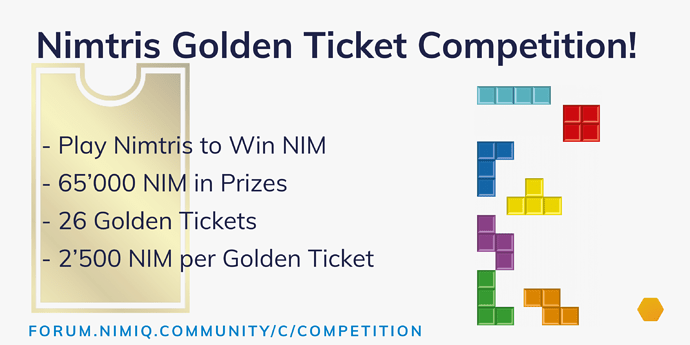 Remember Tetris? Well, Nimiq's community member @Stefan created this awesome game called Nimtris, which is inspired on the legendary game of Tetris. As a faucet, Nimtris seeks to entertain the user and also reward them with NIM depending on the high score.
The higher the score, the more points you earn. However, there's an additional feature called the Golden Ticket. This is an additional prize, awarded to random players who are able to get a minimum score of 1000. The more you play, the more likely it is for you to earn a Golden Ticket.
You can win!
There will be 26 Golden Tickets automatically awarded to random players. Each Golden Ticket is worth 2'500 NIM, for a total of 65'000 NIM in total prizes.
How to participate?
How is the winner chosen?
Nimtris will automatically choose the winners and award them directly with the Golden Ticket prices when the players win.
We will send out a tweet ending the competition when all the Golden Tickets are won.
Resources